The sound of bells echoing in the sky of Hiroshima, Japan on Thursday (6/8/2015) morning marks the 70th anniversary of the atomic bomb on Hiroshima.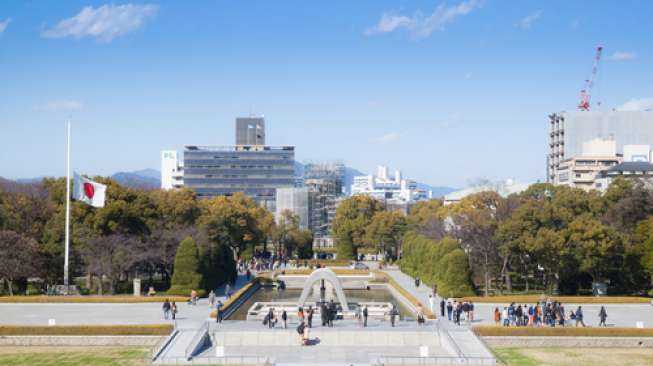 The atomic bomb that killed hundreds of thousands of lives did help stop World War II, but there are still differences of opinion to this day whether such destruction can be justified. 
Prime Minister Shinzo Abe and envoys from foreign countries were among the thousands who gathered at the Peace Memories Park to silence at exactly 8:15 local time, the time when the atomic bomb was dropped in the western city of Japan which immediately turned into a lake of fire, at 6 August of 1945. attack of the Mayor of Hiroshima, which has now turned into a busy city, Kazumi Matsui said, nuclear weapons are "a crime real "and urges the world to end its use forever. "We must put an end to the real crime and the extraordinary atrocity of nuclear weapons. Now is the time to take action," he said in his speech. 
Japanese Prime Minister Abe laid a wreath of mourning at a ceremony which was also attended by US Ambassador to Japan Caroline Kennedy and a number of other officials.
The Deputy Minister of Arms Control, Rose Gottemoeller is also scheduled to attend as the highest ranking official sent from Washington MRI of a single atom to attend the annual ceremony.
Looking back, an American B-29 bomber named Enola Gay dropped an atomic bomb called the "little boy" on Hiroshima on August 6, 1945.
Almost all of the places where the bomb fell was hit by temperatures reaching 4,000 degrees Celsius. This heat is capable of melting steel.
Around 140,000 people are estimated to have lost their lives due to the attack, including some of those injured who died several days to months later due to radiation exposure.
On August 9, the port city of Nagasaki was also hit by an atomic bomb attack which killed around 70,000 people. Japan finally surrendered a few days after the two deadly bombs, namely on August 15, 1945.
World War II that has lasted for many years ended. Debate continues to revolve over whether the twin bomb attacks can be justified. Dropping bombs that were developed and made in secret, was very well-known among Americans who were bored of the war at the time, and after 70 years, most of them still believed that the action was right.
Historians say that this prevented a larger attack in the planned invasion of the land, but there were many criticisms that the attack was not really necessary to end the war on the grounds that Japan was heading for defeat. 
Fifty-six percent of US citizens surveyed by the Pew Research Center in February said the atomic bomb attacks on Japanese cities were justified, while 79 Japanese respondents stated otherwise. Paul Tibbets, who drove Enola Gay, stated that he never thought twice or was hesitant to drop the bomb, as he said in an interview with a 2002 newspaper, five years before his death. "I know we did the right thing," he said.
After this bombing, Washington, which later became a close ally of Japan after the war, never formally apologized for the bombing.